Metal Shear Blades
We make out metal shear blades in the UK, in Chesterfield. We manufacture them as either Guillotine Shear Blades or Scrap Shear Blades.
All our metal shear replacement blades are manufactured to OEM specifications and supplied in various steel grades (click the link to read more..) Also we can adjust b lade hardness to suit your machine capacity.

Also, we supply popular ready-made models of metal shear blades. Most of these blades are in stock and available for immediate shipment. Please follow the links below to read more about the specifications and download our catalogue:
Guillotine Shear Blades – have the cutting length of up to 6m and thickness of up to 24mm.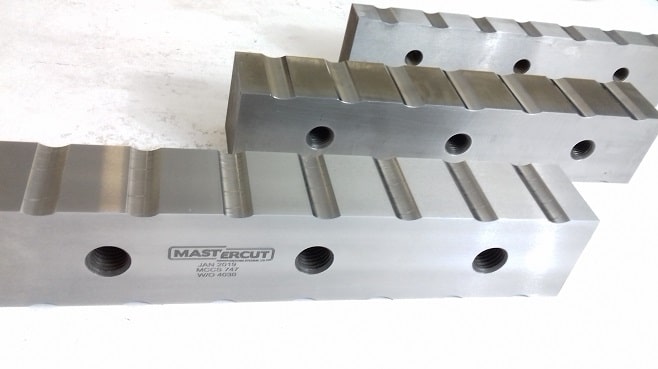 Scrap Shear Blades – always reliable to use in scrap demolition, reclamation, and recycling industries.
Additionally, we offer metal shear blade sharpening service. MASTERCUT provides sharpening and regrinding of metal shear blades from various steel grades: standard, tungsten, and HSS. If a Guillotine Shear Blade gets only small cracks and defects than the blade can be sharpened several times. To avoid shearing defects it is important to know what thickness of your material is. Sheet metal thickness is measured in gauges, with a higher number indicating a thinner sheet. However, it is important to remember, that ferrous and non-ferrous sheet metals of the same gauge have different thicknesses, so you'll need one gauge for ferrous metals, and one for non-ferrous.