Guillotine Blade
Guillotine Blade replacement for either paper or metal cutting industry can be manufactured at our facilities. We provide different steel grades,  coatings, and heat treatments upon customer requests. If you would like to look at different steel grades we use in our manufacture please follow this link.
MASTERCUT also supplies a wide range of Guillotine Blade replacement models:
(please click on the relevant link or image)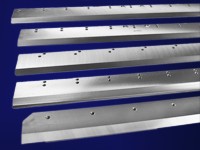 paper cutting Guillotine Blade for the printing industry: CORTA, IDEAL, POLAR, MAXIMA, SCHNEIDER, WOHLENBERG and many more. According to customer request, a blade can be supplied with the various number of holes and bevels.
Badly damaged blades always affect the cutting process with burrs, cutting lines, and other artefacts. Therefore, to avoid paper waste and save time damaged or end of life guillotine blade should be immediately replaced.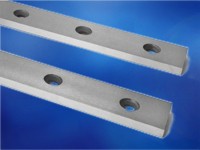 metal cutting Guillotine Shear Blades: ADIRA, AMADA, EDWARDS, SAGITA, PEARSON guillotine blades and many more.
Being manufacturer and supplier we are knowledgeable and experienced with various bespoke and popular industrial guillotine blade replacement from all over the world. So if you need a custom-designed guillotine blade, please email us your drawing.