Guillotine Blade
We manufacture and distribute standard and custom designed Guillotine Blade models. We offer various designs for the paper cutting guillotine blade and the metal cutting guillotine shear blade industries. Upon customer request our blades have different coatings, heat treatments, and dimensions. To look at different steel grades we use in our manufacture please follow this link.
To read more about our guillotine blades for various industries please follow the relevant link below.
For the printing industry we supply CORTA, IDEAL, POLAR, MAXIMA, SCHNEIDER, WOHLENBERG guillotine blades and many more.
Also our blades and knives can be manufactured according to customer requests. We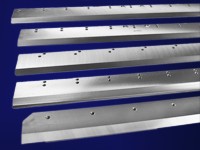 offer blades with the various number of holes and bevels. We keep many models of blades ready for immediate shipping. If you need a guillotine blade replacement please contact us because dull or damaged blades cause burrs, cutting lines on paper, and lost of effeciency. We will help you to avoid all these artifacts by sharpening or replacing your blade.
For the metal cutting industry we offer ADIRA, AMADA, EDWARDS, SAGITA, PEARSON guillotine shear blades and many more.
From that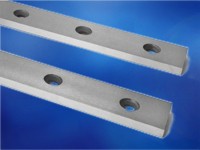 page you can download our catalogue of guillotine shear blades. Also, you will find our answers on the earlier enquiries from our customers.
We know about various bespoke and popular industrial guillotine blade designs from all over the world. Depending on your application we offer guillotine blades with different dimensions and parameters.  If you need a custom-designed guillotine blade, please email us your drawing, sketch, or written specification.
To see how we manufacture high quality knives and blades at a competitive price please contact us today.