Guillotine Blade
We manufacture and distribute standard and custom-designed Guillotine Blade models. Our guillotine blades can be used by a variety of industries like packaging, metal cutting, wood industry, food processing, rubber industry. We even have a customer using our guillotine blade to cleave away old ice at an ice skating rink.  
Depending upon the application we make blades from various steel grades, use different heat treatments, apply diverse coatings. We manufacture blades and knives according to customer requests.
Guillotine blades are mostly used in the printing and the metallurgical industries. To satisfy the needs of these industries the blades have different features. Because the major requirement of the printing industry is to have a precise cut, therefore paper cutting guillotine blades have one or two bevels. However, for cutting hard metals guillotine shear blades have a rectangular shape.
Guillotine Blades for the printing industry: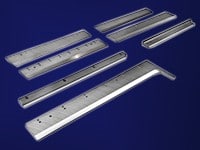 We offer blades with the various number of holes and bevels. If you have a guillotine blade that is damaged contact us and we will sharpen or replace your blade. We keep many models of blades ready for immediate shipping. To see them all, please download our PDF catalogue of blades and knives for the print industry. 
From that page, you can download our catalogue of guillotine shear blades for sale. Also, you will find answers to some previous questions we had.
Depending on your application we offer replacement guillotine blades with different dimensions and parameters.  If you need a custom-designed guillotine blade, please email us your drawing, sketch, or written specification. We know about various bespoke and popular industrial guillotine blade designs from all over the world.
If you would like to ask your question now, please call us or submit the form on this page.