Perforation and Bagging Knives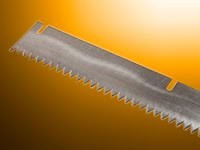 We manufacture Perforation and Bagging Knives from different steel grades but always using only the finest steel. Also, our quality controllers thoroughly inspect our perforated machine knives to ensure their durability and quality. Our knives effectively cut brown paper, wrapping tissue, bubble wrap, any type of films, metalized bags, corrugated cardboard, envelops, wallpaper.
As one of the international perforation blades suppliers we have a wide range of knives and blades drawings from around the world. To improve wear resistance and prevent adhering our perforating knives and blades can be Tin or Teflon coated.
Direction of perforation cut:
At MASTERCUT we provide straight, circular, and toothed knives: V-Tooth, Scalloped Tooth, Serrated Tooth, Zig Zag, and Anvil sets. Usually engineers use straight knives for crosswise and circular knives for lengthwise cutting.
From our large range of perforation and bagging knives, Rovema type perforation blade is the most popular.
They suit Horizontal Bag, Hot Crimp, weigh and cut machines for a confectionery bagging with a heat-sealed crimped top and serrated cut sealed bottom application.  Additionally, to easier user entry to the sealed bags they can be manufactured with a tear strip facility. Rovema type straight cut apex form knife with 'Tear strip' facility is applied for Horizontal bagging machine with hot crimp seal facility (as perforated knife pictured above). Almost all these blades found their main use in bagging applications for the food processing industry.
Similarly, we have customers using our perforating knives in ice-cream, dried fruit, chocolate packaging.
Please contact us by the form on this page or by phone +44(0) 1246 860811 to get your quote.