Shredder Blocks
Regarding of whether you operate shredding machinery dealing with either plastic-production or metal-processing waste we will provide you with the appropriate for your material shredder blocks and blades.
Our Shredder Blocks can be used in single shaft shredders in various applications:
Plastics – processing rigid and flexible plastics
Rubber – scrap, production waste, tyre
Metals – shredding metal chips (including light ferrous scrap), used cans, industrial cables
Textiles – carpets, fabric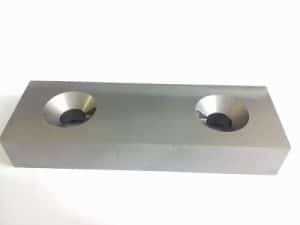 MASTERCUT manufactures Shredder Blocks and Blades in a range of steel grades and hardness. Many combinations of blade geometries and diameters are available.
Additionally we supply models of popular ready made Shredder Blocks and Knives: Vecoplan, Lindner, Micromat, Weima, Untha, Terex, Artech, and more.
Hook shredder blades can also be refurbished and regrind (subject to various drawing components).
For all enquiries please either use the form on this page or phone us +44 (0) 1246 860811.